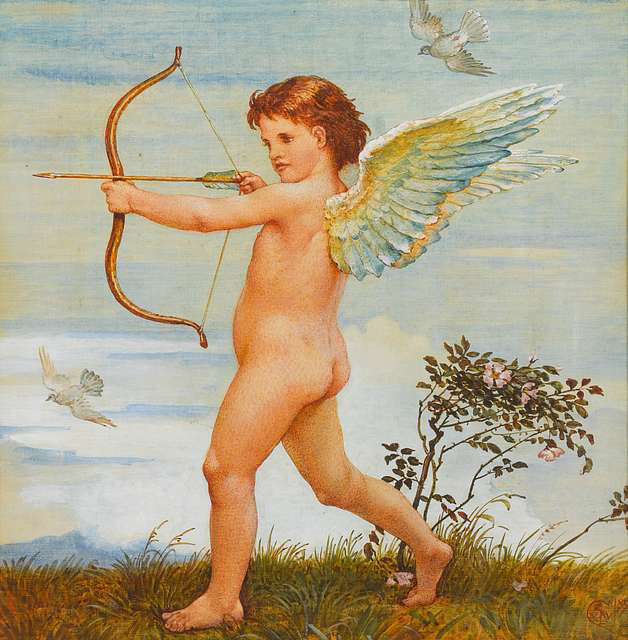 Cupid, God of Love. Image credits: garystockbridge617.getarchive.net
Your yearly reminder to spoil your other half, Valentine's Day is celebrated all around the world, with traditions including the gifting of flowers or chocolate, and sometimes is the perfect excuse for wedding proposals.
With the origin of the holiday remaining vague, the celebration as we know it today dates back to the Fourteenth century. As you would have guessed from its name, Valentine's Day has a religious origin for taking place on Saint Valentine Day, 14th of February. Although the exact legend remains unclear, stories tend to a Saint that defied the emperor's order and would secretly marry couples to spare husbands from war. Hence a celebration of love. Other beliefs tend to mid-February as the welcoming of Spring to come, explaining the association to birds, often depicted on cards, due to spring being the mating season.
By the late Eighteenth century, Valentine's Day began its commercialisation through the printing of cards. In true lovers' tradition, Cupid, Roman god of love, is usually associated to the holiday and depicted on cards.
The lovers' day is now mainly celebrated in the Commonwealth, as well as other countries in Europe, Mexico or South Korea. Other countries around the world, however, associate love to another day of the year. In Brazil, for example, the Dia de Namorados is celebrated on the 12th of June. In China, August the 13th is dedicated to all the lovebirds. In South Korea and Japan, Valentine's Day is celebrated on the 14th of February, where women gift chocolate to men, but the holiday is followed in March by White Day where men reciprocate the gesture.
A commercialisation tool, some may say.
Like any other popular holiday, globalisation found a niche to capitalise on a religious date. Emphasis is placed on specific dates where specific offerings are expected. At Christmas, for example, presents are traditionally brought to obedient children. Nowadays, Christmas includes the gifting of presents to and from adults or parents; cross-generation; between friends and colleagues.
In the case of Valentine's Day, a card no longer suffices; chocolates, flowers (usually red roses), jewellery and a romantic dinner are expected, creating a new market for brands and businesses to capitalise on, and chocolates and roses are no longer the only options to choose from. In modern days, any gift that is exchanged between loved ones is a proof of their love for one another.
And like for Christmas, the holiday is no longer solely celebrated in its traditional manner. It is now often celebrated between friends.
Galentine's day is the modern take on the celebration of friendship. It was popularised in 2010 by a series called Parks and Recreations, and it is mainly celebrated by friends who find themselves relationship-less around Valentine's Day. Galentine's day generally refers to female friendships (galentines = gal pals) and technically takes place on the 13th of February. Once again, the friendship celebration became so popular it is now promoted on its own and, you would have guessed it, also highly capitalised.
Never mind commercialisation. If you love someone, your friends, your colleagues, why not let them know? It will make you happy to celebrate them, and they will feel loved. So, whether you are in a relationship, it's complicated, or you have great friends, make sure to make this year's celebration worthwhile. We all deserve a bit of attention, after all.
Article references:
https://www.britannica.com/topic/Valentines-Day
https://www.cosmopolitan.com/sex-love/a26052713/galentines-day/
https://www.huffpost.com/entry/beyond-valentines-day-10-_b_2664215