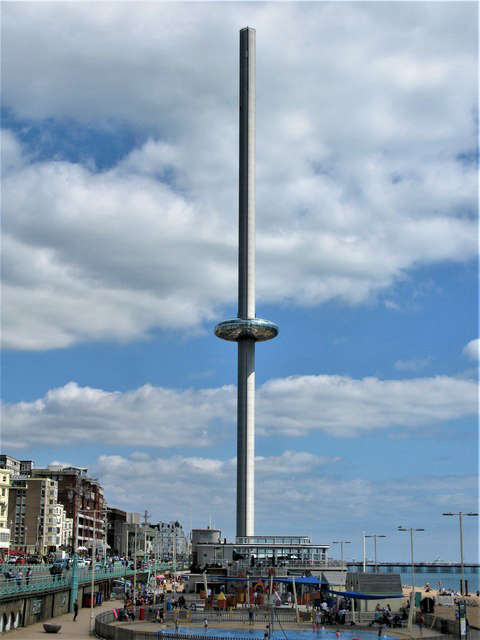 i360 tower, Brighton. Image credits: geograph.org.uk
162m tall, capacity of 200 passengers at a time, 20 minutes long "flight". Work started in 2014 for locally well-known British Airways i360 tower.
Brighton residents traditionally opposed to such a construction, the building nevertheless attracted national attention from its opening. Built on the site of the previously existing West Pier, the ruins seeming to float over the sea are visible from the beach and admired from the sky-high tower.
On a clear day, views from the top of the tower extend to 25 miles along the South coast of England. The building offers the sight of Brighton Sea, its marine wind farm, the Palace Pier, the Marina, Brighton and Hove as a whole, and the South Downs National Park surrounding the city.
From its creation, British Airways has been the loud and proud sponsor of the i360. The idea of a sky-high moving structure would give tourists the illusion of a short flight, which is the role embodied by the sponsoring airline company. Despite popular criticism, the building can be admired for its amazing engineering and design. The novelty of offering Brighton its highest and moving bar further adds a unique attribute to the region. Yet the building continuously fails to meet targets and has lost millions of pounds set in projections. The attraction, in turn, blamed Covid for its lack of visitors. However, figures show that the i360 lost in popularity long before the start of the pandemic. Targets are not only necessary to keep the structure afloat, but to further guarantee the repayment of its £6 million loan.
The chief operating officer of the i360 claimed the initial success from the opening in August 2016 couldn't have been without its sponsor thanks to its internationally known brand. But sponsorship is set to end on November 3rd, 2022. "Welcome aboard the i360" may therefore shortly be a thing of the past. The building is now seeking a new sponsor, and the i360 remains optimistic that it will live on, proudly describing itself as Brighton and Hove's contemporary landmark.
What about a flying burger? Latest speculation from Random Art International tends to the American giant McDonalds as next in line to sign a sponsorship. Brighton residents may then long for the previous sponsor, regretting initial criticism. Whether or not this crazy idea will see the light of day, a sponsor will be needed urgently or else the structure could be taken down, and the loan remain unpaid.
Send us your wildest ideas of new sponsor and design (via Twitter or Instagram) and you may be featured on live radio!
Article references:
https://www.ice.org.uk/what-is-civil-engineering/what-do-civil-engineers-do/brighton-i360
https://www.westpier.co.uk/i360/i360/
https://www.bbc.co.uk/news/uk-england-sussex-59909036
https://www.itv.com/news/meridian/2022-01-13/will-brightons-i360-ever-meet-its-sky-high-ambitions
https://www.theargus.co.uk/news/19833985.will-new-i360-sponsorship-deal-see-brighton-attraction-become-mcdonalds-restaurant/