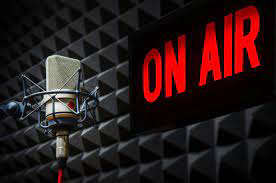 Radio studio. Picture credits: istockphoto.com
With World Radio Day falling on the 13th of February, we are using today, Valentine's Day, as an opportunity to declare our love to our career and passion. And for the audience, we hope this is how you can declare your love for live broadcast.
I still remember listening to a cooking show on radio. It was unique, a sensation I had never felt before. It was like travelling with my eyes closed for the space of the programme. Just imagine – you are sat on your sofa. They set the scene of a Mediterranean village, where you just got your fresh produce from a local farm. There are cicadas singing in the background (that cricket sounding noise insects make in Mediterranean countries), and a slight breeze you can hear through background noises. From my kitchen, I could feel the warm air from a hot summer day. With each ingredient comes a scent you can almost smell without having the ingredient in front of you. And from there commences a short journey in the space of a simple recipe.
As for many inventions, we owe the creation of the first radio to a scientist; physicist Heinrich Hertz created the first radio in 1886. Commercialised from the start of the 20th Century, who would have thought of the global impact radio waves have had since. Being the predecessors of television, smartphones and tablets, radios were the first to diffuse news outside of written press. Entertainment developed alongside aired news to create audience. This is how radio became a mass culture.
When television landed around the mid-1900s, radio faced its first direct competition. Television brought a whole new dimension to technology, and soon became more and more accessible. With time, other mediums developed, making it hard for live broadcast to keep up. However, radio remained the most widely accessible electronic device.
No matter the competition, radio brings the unique attribute of being based on a human voice. With background noises, interviews, programmes, the audience has free reign of their imagination for the setting of the scene depicted solely through sound.
Nowadays, all sorts of programmes are aired, from news to game shows, music programmes to documentaries.
Discovering music artists, discussing breaking news or entertaining an audience whilst they're getting ready in the morning is unparalleled through other means. Some may require not only hearing but visual senses, hence distracting the audience in more ways than one. Radio therefore holds the monopoly of multitasking.
With different radios being born throughout the pandemic, the future of broadcast looks bright. At Regency Radio, we hope to embark as many people as possible on our beautiful journey.
Let us know what your favourite thing about radio is!