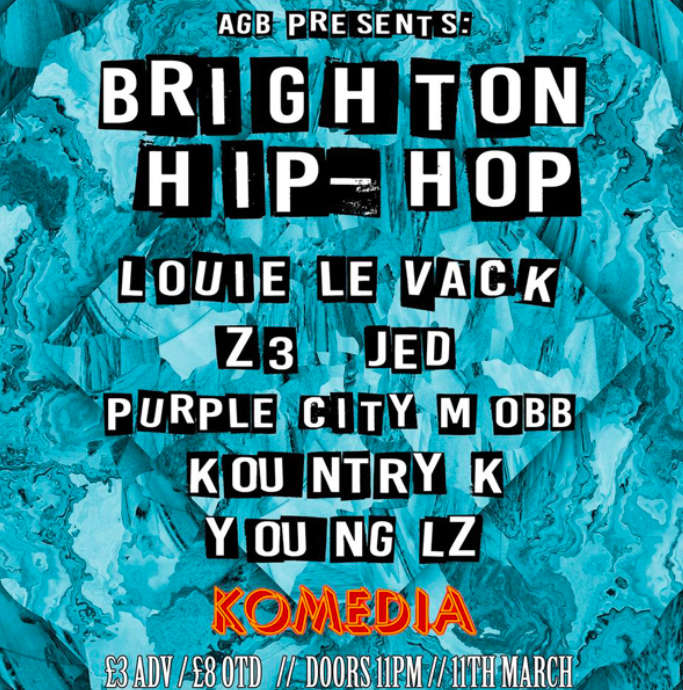 "Each artist brings something different; trap might be more jump up and mosh pits. Then you have other artists that are slower with beautiful lyricism, and you hear the room go quiet to fully listen to the lyrics. Garage then gets people moving. That's what I like about my event – there's a different energy with each artist; it's not repetitive".
JED, rapper and organizer of the ABG event at Komedia, couldn't let the opportunity of a remake go. With such a success on their previous run last October, we got to know the organizer, as well as Trickk, another rapper on the lineup, to get insights to their music and upcoming event on Friday the 11th of March.
Growing up in Devon, JED started off playing guitar from a very young age. Writing songs was always an interest of his, but rap wasn't necessarily the main focus at first. His early influences revolved more around Indie (i.e., The Lumineers), or even the Arctic Monkeys. Writing rhymes is what got him into hip-hop. For him, being an artist is about mixing influences: "at first, my style came from American trap influence (Benny the Butcher, Freddie Gibbs). Storytelling is what I was into. I then started putting American flows onto UK beats, and I find it works really well. It's about describing a moment".
To him, rap is an interesting genre as it allows the artist to explore different areas; it can be about the story, about the voice, about the beats. In fact, the artist that first got him into music was Jake Bugg; "completely unrelated to hip hop but he made me want to go into it. He's got this weird voice and I remember thinking 'he can't really sing but he still sounds good, so if I can't really sing maybe I will too'. In terms of hip hop, weirdly enough Polo G was an influence at the time. Not really my style or what I want to do but when it came out I thought: 'I could do this'".
With this event, JED wanted to put Brighton-based artists to the forefront. The Brighton music scene is big and varied. It's about exposing the local scene and showing people what's going on. "[The artists] all show completely different things, different moves. Rap isn't necessarily a genre, nor is hip hop. There are so many sub-categories it's hard to define it". With different artists of different styles featured on the lineup, ABG will highlight the variety in Brighton-based hip-hop.
Hearing it from another artist on the Lineup for the event, Trickk (from Purple City Mobb) told us about his music and background.
Brighton-based artist Trickk has been writing music for ten years now. When asked about his style, he doesn't hesitate for a second: "it has always been rap. Up until today I hadn't really ventured to other styles. I can now do some harmonies and singing here and there, some experimental tunes, but it mainly is about rap for me; it's my biggest interest and what I care about".
Contrary to JED, Trick focuses more on the beat side. Rapping comes after. "I go off beat. I've got a big love for beats. I don't care too much about the lyrical content. For me it's not about being politically correct or spreading a certain message. It's 100% about the beat. It's what catches you first when you listen to a new song. I don't really care about the lyrical side".
The beat tends to be what sets the mood, but for Trickk it's about how well you show on stage: "when the adrenaline kicks in, the stage is mine. People feel it too. They always compliment my sets; it's because I put my all into it".
When it comes to musical styles, he too thinks it's hard to categorise his music. His style is considered more trap as he brings in more trap beats. However, it's not linear; "I don't want to put a label on it. I just rap. My music doesn't allow you to sit down and get bored".
On a night with different artists coming on one after the other, first impression is important and often sets the mood for a gig. We asked Trickk if he ever feels rivalries with other artists on stage. He told us that, on a lineup, he doesn't have much competition; "I just need to bring my all. And if the previous person had amazing energy I'll just have to come in stronger. I want the crowd to react. For me it's about being gradual. Basically, the only competition I will ever have will be with the person going before me on a lineup".
Less than two weeks away from the event, both rappers are now preparing for their gig. Their energy and style are certainly promising for a night of good music and variety of styles; from hip-hop to drill, grime to garage, the audience will be hit with a versatile lineup.
Head over to Komedia's website for tickets.